As an introduction to my post Collect feedback with Actionable emails within Office365 I will provide some background to the ideas behind the article.
NB: Follow the link to the article if you just want to get to the work instruction on how to get users to give feedback directly from an email.
At the Microsoft Build conference Joe Belfiore - VP for Windows - presented the day 2 keynote and showed the potential of Adaptive cards.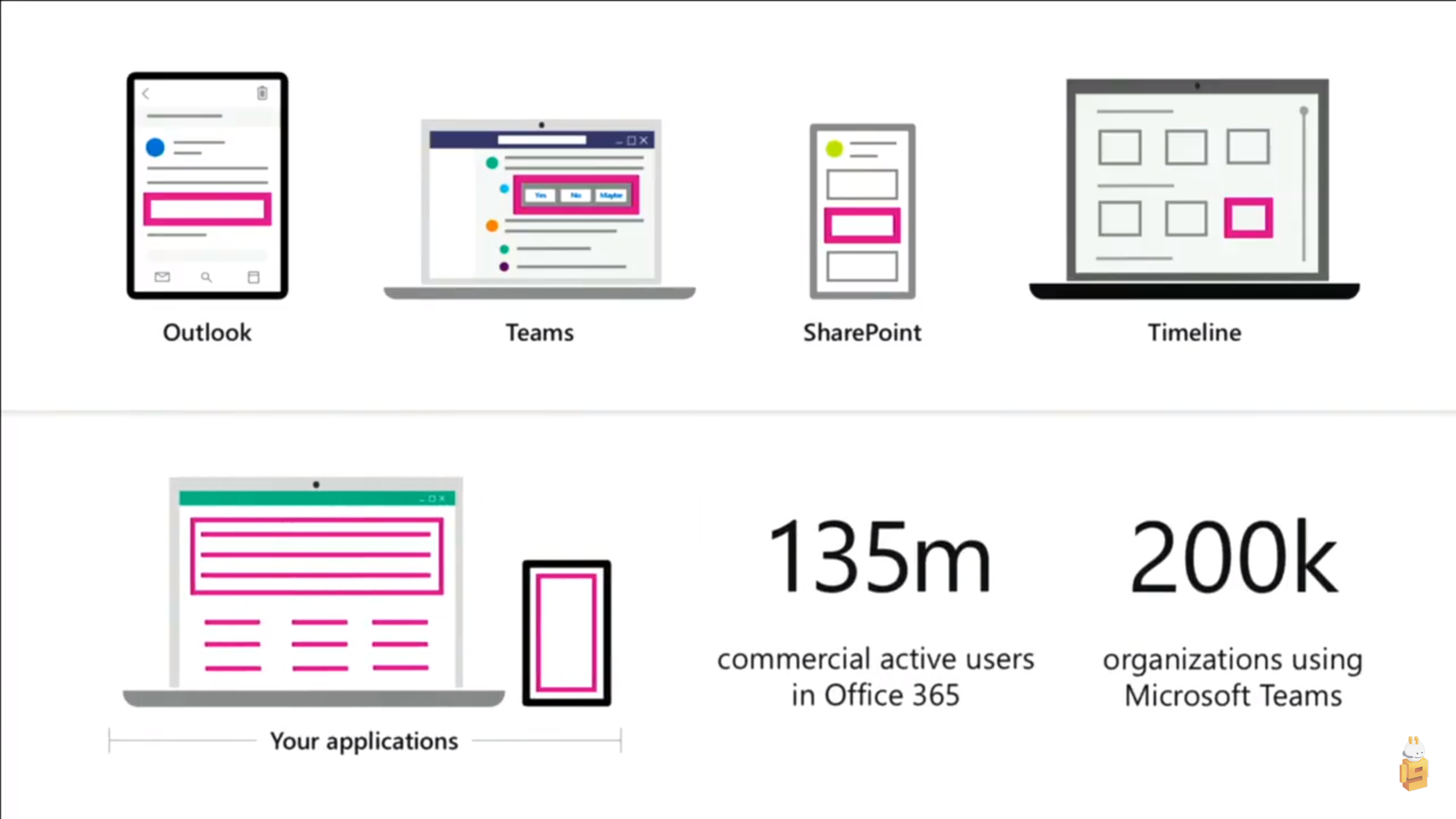 This overview shows that your companies' Apps can push these adaptive cards into the most useful applications of Office365 (Outlook, Teams and SharePoint). They have a consistent look and feel and are easy to use. This means they can be the glue between all your Office365 Apps, and give them platform a unified feeling. Finally!.
Because, no matter in which App you're working right now, you can always work on your most important tasks without switching to a different application.
The client case they showed was a hospital where the planners worked directly in Microsoft Teams. They would receive an actionable message immediately when there was a planning task to be done. With a few clicks, right inside MS Teams, they could send a nurse to room at a certain time to help a patient. The nurse received a text message on his/her phone and knew where to go next.
This scenario was supported by a Line Of Business application the hospital owned (bought or had developed themselves). Of course, this can be used stand-alone, probably in a web application. But, by unlocking this application for Office365 and Windows people can work more effectively because they can do their tasks from one single App. By securing everything with Enterprise Mobility Suite, the full breadth of Microsoft365 shows its potential in this client case. Of course, it was a marketing video so perhaps it should be taken with a grain of salt. Either way, the fact that a hospital wants to showcase their workplace solution speaks volumes. Especially considering their needs to have such high standards of availability, usability and resilience.
In the article Collect feedback with Actionable emails within Office365 I provide an easy to implement solution to achieve similar things. I've found a solution where you can ask users for input via an email and they can respond to your question without leaving Outlook. Similarly, you could send the message to your users when they are working in SharePoint or Microsoft Teams.
I'd like to tie into the Microsoft Build Keynote by Satya Nadella (CEO of Microsoft) here aswell. He talked about two key terms with relation to building IT systems: Opportunity & Responsibility. The opportunities for developers and architects to create awesome Apps are massive right now, and are only increasing. However, with these opportunities the responsibility to provide well thought out, secure and empowering Apps goes hand-in-hand.
I've written Collect feedback with Actionable emails within Office365
to show the possibilities and ease of implementation of actionable messages with pure O365 tools like Microsoft Flow and SharePoint. However, it is not a finished and production ready solution. And, it is not suitable to handle sensitive data in this form. So, keep that in mind when you read it and just use it to spark your own imagination regarding great Apps and integrations you can build for your company and your clients.
---
This was Part I: The potentail of actionable messages in Office365
Part II: Collect feedback with Actionable emails within Office365
Part III: Finishing the support incident scenario